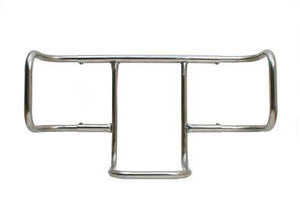 Universal Deck Mount Life Raft Cradle
Sale price Price $505.00 Regular price
Superior Life-Saving Equipment's universal deck mount cradle assembly is designed to fit all Superior branded recreational life rafts sizes 4, 6, 8, 10 and 12. This universal cradle assembly will also fit most manufacturers' rafts sized 4, 6 or 8. Our stainless construction and hardware provide an everlasting solution for safely securing a raft to your boat's deck.
Features:
Designed to fit all Superior branded recreational life rafts (4, 6, 8, 10, 12-person rafts)
May be used with other manufacturers' rafts up to 8-person (check manufacturer dimensions)
Universal cradle assembly includes:

Adjustable stainless steel cradle
Stainless steel shackle
Life raft hydrostatic release unit (HRU)
Lashing strap with stainless steel pelican hook
Dimensions: (adjustable)

Inside dimensions smallest: 29.5" L x 19" W
Inside dimensions largest: 38" L x 24.5" W
Outside dimensions smallest: 31.5" L x 21" W
Outside dimensions largest: 40" L x 26.5" W
Height of extension arm, 10"