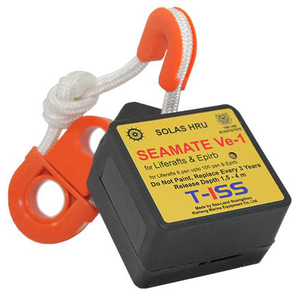 Seamate HRU
Sale price Price $99.00 Regular price
Seamate Hydrostatic Release Units come with a 3 year service life, matching the service date on most recreational life raft on the market. HRU
Designed and fabricated from tough non-corrosive materials, the Seamate™ HRU represents innovative thinking and real cost saving benefits in automatic Hydrostatic Release Units (HRU).
 At a depth of 1.5 to 4 metres, water pressure alone is sufficient to operate the release mechanism to free life rafts and emergency beacons for deployment, without any human input. This offers considerable advantages both in reliability and performance as the releasing system does not depend on a pyrotechnic device or a battery to release the life raft or emergency beacon.
Seamate™ HRU's meet all international regulations and each unit is individually tested to ensure that it is the most reliable HRU in an emergency situation.
Suitable for life rafts from 4 to 150 persons – maximum load 10kN (2250 lbs).

Fabricated from non-corrosive, long lasting, quality components.

Highly reliable release mechanism – does not depend on pyrotechnic device or battery.

Service life of three years – no maintenance required. Realise 50% more active service compared with the usual two year in-service period offered by other popular brands.

Complies with SOLAS and IMO regulations, DNV, Wheelmark Certified, US Coast Guard approved.