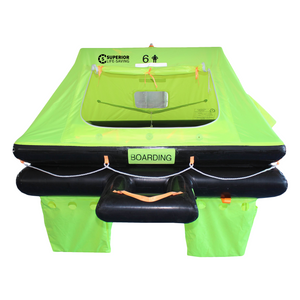 OFFSHORE STREAM
Sale price Price $1,885.00 Regular price
Superior Lifesaving Equipment's Offshore Stream is the quintessential offshore liferaft, suitable for any recreation boater looking to travel beyond the coastline.
The Offshore Stream provides an industry leading, 4 feet of floor space per passenger. Coupled with an insulated floor and the most visible canopy on the market, the Offshore Stream provides the balance and security needed for all offshore boating enthusiasts. An automatic inflatable ramp, internal boarding ladder and automatically deployed oversized ballast system ease embarkation for passengers. The offshore Stream is available in 4, 6, 8 passenger capacity and offered in a fiberglass container or vinyl soft pack. Multiple viewing ports, SOLAS grade reflective tape, automatic canopy strobe light and offshore equipment pack make the Offshore Stream an excellent option for the blue water boater.
This raft comes with a 12 year limited warranty. 
•  Industry leading, 4 square feet per passenger
•  Bright, florescent safety green canopy
•  Over-sized inflatable buoyancy tubes
•  Weighted, automatically deployed ballast pockets
•  Reflective tape and automatically activated canopy light
•  Inflatable boarding ramp and internal boarding ladder
•  Rainwater collector
•  Sea anchor and buoyant rescue ring included
•  Sealable viewing and ventilation port
•  Insulated floor for protection from hypothermia
•  Vacuum sealed for protection against the elements
•  Includes offshore equipment pack
EMERGENCY EQUIPMENT PACKS: TYPE AND CONTENTS
Shipping
Liferafts are hazardous material that must be shipped via LTL freight, delivered to a commercial address capable of unloading via loading dock or with a forklift on premises. If you require specialized delivery to a residential address, please email us at sales@superiorlifesaving.com to arrange special shipping. 

All shipping charges are flat rate, depending on the location of delivery.
If shipping outside of the contiguous United States please call to inquire.