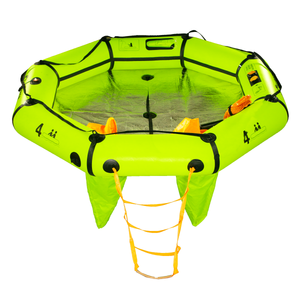 HALO
Sale price Price $1,250.00 Regular price
The most advanced, compact liferaft in the world.
The Superior Life-Saving Equipment HALO is the perfect liferaft for smaller vessels or coastal boaters. The HALO is the only vacuum sealed liferaft in its class, allowing for 3 year service intervals in line with the rest of Superior Life-Saving Equipment's lineup. Each HALO comes standard with an insulated floor and offshore ballast system to provide safety and additional stability on the water. HALO liferafts are heat welded, giving you a more durable and longer lasting product compared to hand glued rafts from our competitors.
This raft comes with a 6 year warranty. 

•  Vacuum sealed for added protection and extended 3 Year service intervals
•  Heat welded seams
•  Removable insulated floor
•  Superior green hull for added visibility on the water
•  4* oversized weighted ballast bags (*2 person has two bags)  
•  Automatically deployed 4 rung boarding ladder
•  Stainless steel tow ring and hardware throughout
OWNER'S MANUAL
EMERGENCY EQUIPMENT PACKS: TYPE AND CONTENTS
Shipping
Liferafts are hazardous material that must be shipped via LTL freight, delivered to a commercial address capable of unloading via loading dock or with a forklift on premises. If you require specialized delivery to a residential address, please email us at sales@superiorlifesaving.com to arrange special shipping.

All shipping charges are flat rate, depending on the location of delivery.
If shipping outside of the contiguous United States please call to inquire.